Biography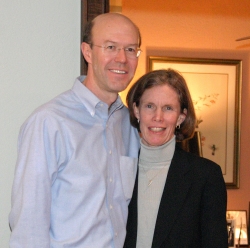 Bob and his wife Nancy.
Currently the longest-serving utility commissioner in the United States and the longest-serving statewide-elected official in Oklahoma, Bob Anthony won election to his sixth consecutive six-year term on the Oklahoma Corporation Commission in November 2018, winning all 77 counties. Anthony was first elected to the Commission in 1988 becoming the first Republican elected to that body in 60 years, receiving more votes than any Republican since statehood. In 1994, Anthony became the first Republican incumbent in Oklahoma history to win reelection to a state office. When reelected in 2000, he received more votes than any candidate for state office in Oklahoma history.
The FBI recognized Bob with its highest award given to "a citizen who, at great personal sacrifice, has unselfishly served his community and the nation." Another prestigious award was presented to Anthony by the AARP in 2006 "in appreciation of his tireless efforts on behalf of Oklahoma consumers."
Bob holds a B.S. degree from the Wharton School of Finance at the University of Pennsylvania, an M.Sc. from the London School of Economics, an M.A. from Yale University, and an M.P.A. from Harvard University. He served in the U.S. Army Reserve where he earned the rank of captain. In 1972 he was the staff economist for the Interior Committee of the U.S. House of Representatives, and in 1976 he served as a consultant to the U.S. Library of Congress. From 1979 to 1980 he served on the City Council of Oklahoma City.
From 1980 to 1987 Bob served as president of the C. R. Anthony Company which was then the largest privately owned company headquartered in Oklahoma.
In addition to holding public office, Bob's civic involvement has included service as chairman of the trust committee of the largest bank trust company in Oklahoma, president of the Economic Club of Oklahoma, board chairman of Crown Heights United Methodist Church and lay delegate to the 2008 and 2012 General Conferences of the United Methodist Church.
All four of Bob's grandparents came to Oklahoma before statehood. His father was born in Cleveland, Oklahoma, and his mother grew up in Enid, Oklahoma. Bob and his wife Nancy were married in 1975. They have four daughters and five grandchildren.

Bob rose to the rank of Captain in the Air Defense Artillery branch during his twelve-year association with ROTC and the U.S. Army Reserve.
Detailed press biography available in News Releases.